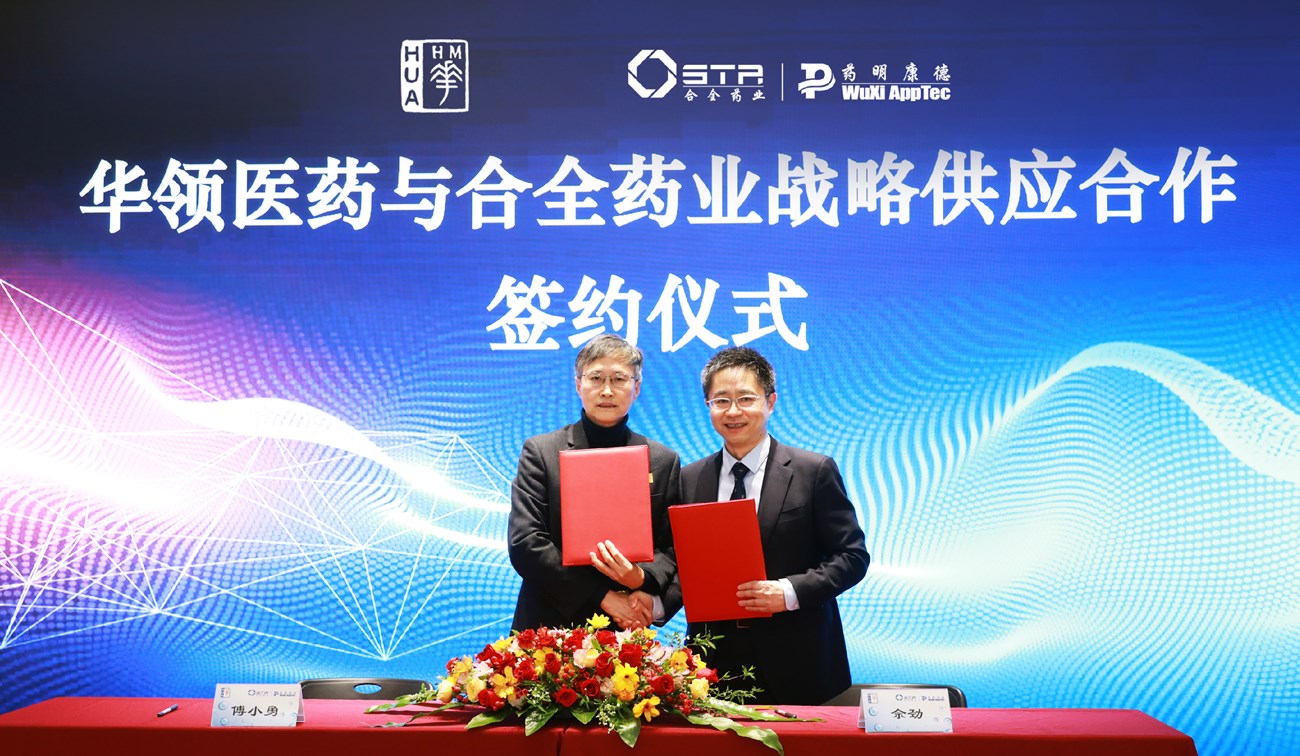 SHANGHAI, CHINA, WuXi STA – a subsidiary of WuXi AppTec– and Hua Medicine (SEHK stock code: 2552.HK) today announced signing a supply agreement for the commercial manufacturing of dorzagliatin, a first-in-class oral therapy for type 2 diabetes (T2D). This commercial supply agreement between Hua Medicine and WuXi STA will further enhance their current collaboration. As the long-time trusted partner of Hua Medicine, WuXi STA will provide the commercial supply of dorzagliatin, helping millions of people with diabetes in China.
Hua Medicine is a leading innovative biotechnology company in China focusing on novel therapy development for diseases with unmet medical needs. It was announced in April last year that the New Drug Application (NDA) of dorzagliatin, a first-in-class glucokinase activator (GKA), was accepted by China National Medical Products Administration (NMPA). The phase III clinical study of dorzagliatin monotherapy showed 65.2% diabetes remission rate without the intervention of any glucose-lowering medication in 52 weeks, after the patients reached the normal glucose level with dorzagliatin treatment. With this positive result, dorzagliatin provides a new option of oral treatment for T2D patients.
WuXi STA was the 1st CDMO that Hua Medicine ever worked with and remains a preferred partner. For dorzagliatin, the two companies worked closely for API and solid dispersion process development and manufacturing, accelerating the first-in-class oral antidiabetic therapy to market. Last year, dorzagliatin has successfully passed the Pre-approval Inspection (PAI) by NMPA at the Shanghai Waigaoqiao site and Changzhou site of WuXi STA. With the agreement signed, Hua Medicine and WuXi STA will continue their close collaboration for API and solid dispersion R&D and commercial manufacturing.
Additionally, WuXi STA received the "Most Valuable Partner" award by Hua Medicine in recognition of its long-term contribution to the dorzagliatin project.
Dr. Li Chen, CEO of Hua Medicine, said, "WuXi STA proved to be an important partner for us during our 10-year collaboration. Going forward, we expect a closer relationship with WuXi STA in the commercial manufacturing of dorzagliatin to reach more T2D patients in China, thus addressing this major public health issue."
Dr. Minzhang Chen, Co-CEO of WuXi AppTec and CEO of WuXi STA, commented, "We are pleased to enhance our partnership with Hua Medicine for dorzagliatin. We look forward to leveraging our proven integrated CMC platform, global standard quality system, and vast API and solid dispersion commercial manufacturing capacity to accelerate the commercialization of dorzagliatin for diabetic patients."
About WuXi STA
WuXi STA (stapharma.com), a subsidiary of WuXi AppTec (wuxiapptec.com), is a leading pharmaceutical development and manufacturing capability and technology platform company serving the life sciences industry, with global operations. As a premier contract development and manufacturing organization (CDMO), WuXi STA offers its worldwide partners efficient, flexible and high-quality solutions for integrated chemical, manufacturing and controls (CMC) from preclinical to commercial uses, including the development and manufacturing of small molecule, oligonucleotide, peptide and various complex chemical conjugate.
For more information, please visit: http://www.STApharma.com
About Hua Medicine
Hua Medicine is an innovative drug development company in China focused on developing novel therapies for patients worldwide with unmet medical needs. Hua Medicine teams up with global high caliber people and integrates ultimate global resources to explore breakthrough technologies and products, and accelerate global innovation in diabetes care. Targeted on glucose sensor glucokinase, dorzagliatin, a novel oral diabetes drug, restoring glucose sensitivity in T2D patients, has completed SEED and DAWN registration trials and filed NDA in China. This global first-in-class glucokinase activator (GKA) has demonstrated its potential of achieving diabetes remission to help millions of diabetic patients around world.